WELCOME TO
GLENMARK CARDIAC CENTRE
---
Glenmark Cardiac Center, established in 1997, is a diagnostic center conducting the entire range of what are known as non-invasive diagnostic tests in cardiology using state-of-the-art equipment. The doctors performing the tests are all qualified cardiologists with extensive training and a experience spanning over 25 years each. Our sole mission is to provide quality non-invasive cardiac diagnosis.
---
---
SERVICES
We can proudly state that, we have become one of the premier referral centers in the country for conducting these tests. Our focus is the non invasive evaluation of adults as well as children and babies who suffer from heart problems.
INTERESTING ECHO OF THE MONTH
---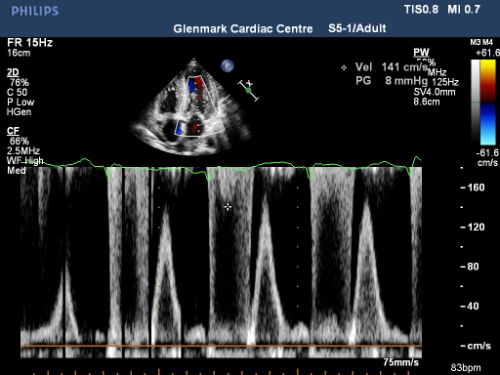 Figure F
---
---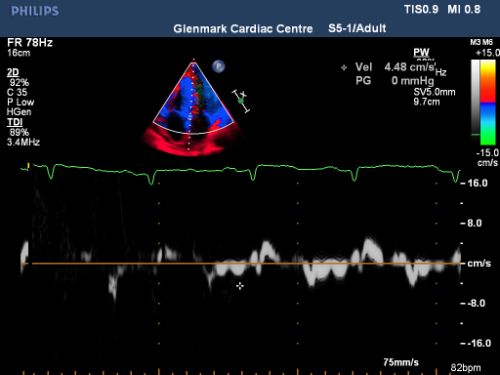 Figure G
---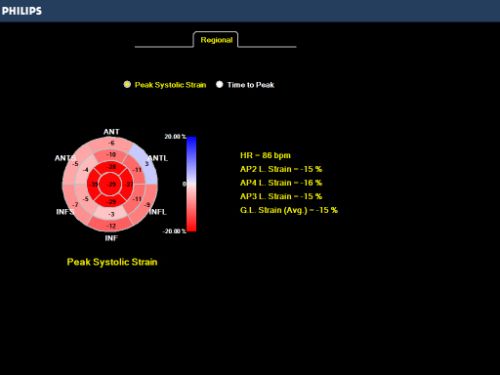 Figure H
---
---
Case History
A 57 year old male patient came with dyspnea on excretion.
What is the Diagnosis??
The echo clips and image of PLAX , SAX, apical 4 chamber ,3 chamber and 2 chamber view (Fig A ,B,C, D, E) show a significant LVH which is diffuse and with a speckled appearance. The LV systolic function is normal - LVEF = 0.57 . There is a mild MR and trivial TR. The MV Doppler is suggestive of Type III LV diastolic dysfunction (Fig F, G). There is no regional wall motion abnormality at rest.
The bulls eye view on Speckle tracking reveals a cherry on the top appearance (Fig H) with a GLS of -15%– suggesting the possibility of Amyloid- restrictive cardiomyopathy
IMP: Infiltrative restrictive cardiomyopathy – Amyloid confirmed on cardiac MRI. Further testing revealed the presence of multiple myeloma