WELCOME TO
GLENMARK CARDIAC CENTRE
---
Glenmark Cardiac Center, established in 1997, is a diagnostic center conducting the entire range of what are known as non-invasive diagnostic tests in cardiology using state-of-the-art equipment. The doctors performing the tests are all qualified cardiologists with extensive training and a experience spanning over 25 years each. Our sole mission is to provide quality non-invasive cardiac diagnosis.
---
---
SERVICES
We can proudly state that, we have become one of the premier referral centers in the country for conducting these tests. Our focus is the non invasive evaluation of adults as well as children and babies who suffer from heart problems.
INTERESTING ECHO OF THE MONTH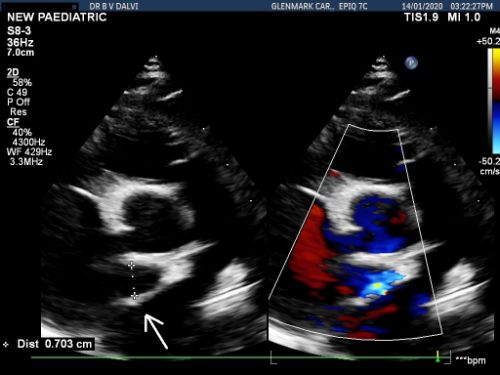 ---
---
Case History
A 1 year 6 months baby boy presented with 3/6 Continuous murmur
What is the Diagnosis??
Coronary cameral fistula – strong suspicion of fistula arising from the LMCA (?LCx) draining into the RA-SVC junction.
The Echo clip of SAX & four chamber view shows the left main is dilated and there is a fistulous tract which is seen to traverse posteriorly towards the RA-SVC junction. The fistula is restricted by 73 mm Hg. It is difficult to say with certainty whether it is the LMCA itself or the atrial circumflex branch of the LCx that has become fistulous. Due to severe restriction at the opening in the RA-SVC junction, there is an aneurysm formation prior to its exit which measures 7 to 8 mm.