INTERESTING ECHO OF THE MONTH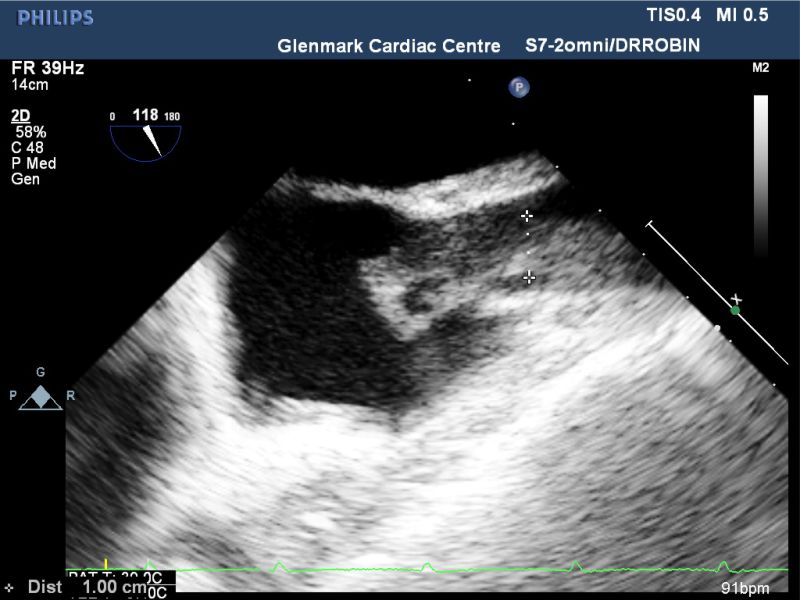 ---
Case History
A 49 yrs male presented with fever since 1 week. Patient was a case of chronic kidney disease on dialysis and was referred for trans oesophageal echo (TEE) as the outside Echo was suggestive of?? Vegetation on Left coronary cusp of aorta and patient was having fever. His TEE clips are shown. What is the Diagnosis??
The TEE clips in SAX views show a round mobile clot in the RA. In the bicaval view where SVC enters in the RA a dialysis catheter (central line) is seen with large mass measuring 1 cm in diameter with a large mobile portion protruding into the RA. This is likely to be a large sheathed thrombus on the dialysis catheter, which in protruding from SVC to RA. Possibility of infective endocarditis to be considered considering the clinical history.
INTERESTING ECG OF THE MONTH
Case History
A 55 yrs male presented with dyspnea, NYHA II & missing beats. ECG showed PVCs and he was advised treadmill stress test to rule out coronary artery disease & exercise induced arrhythmia. Figure 1 shows long lead II ECG during the stress test. What does this ECG rhythm strip show?
Figure 1: Long lead II during Stage III, Stress test

---
The long lead II ECG shows varying amplitude of QRS intermittently, but all of them are narrow. It is difficult to be certain whether this is a PVC/PAC/junctional ectopy or some form of electrical alternans. The preceding P wave or following T wave or RR interval may help to decipher this abnormality, however with the sinus tachycardia none of these can be well ascertained. It would be ideal to have a simultaneously acquired 12 lead ECG to solve this dilemma.
Figure 2: 12 lead ECG during the same Stage III as in Figure 1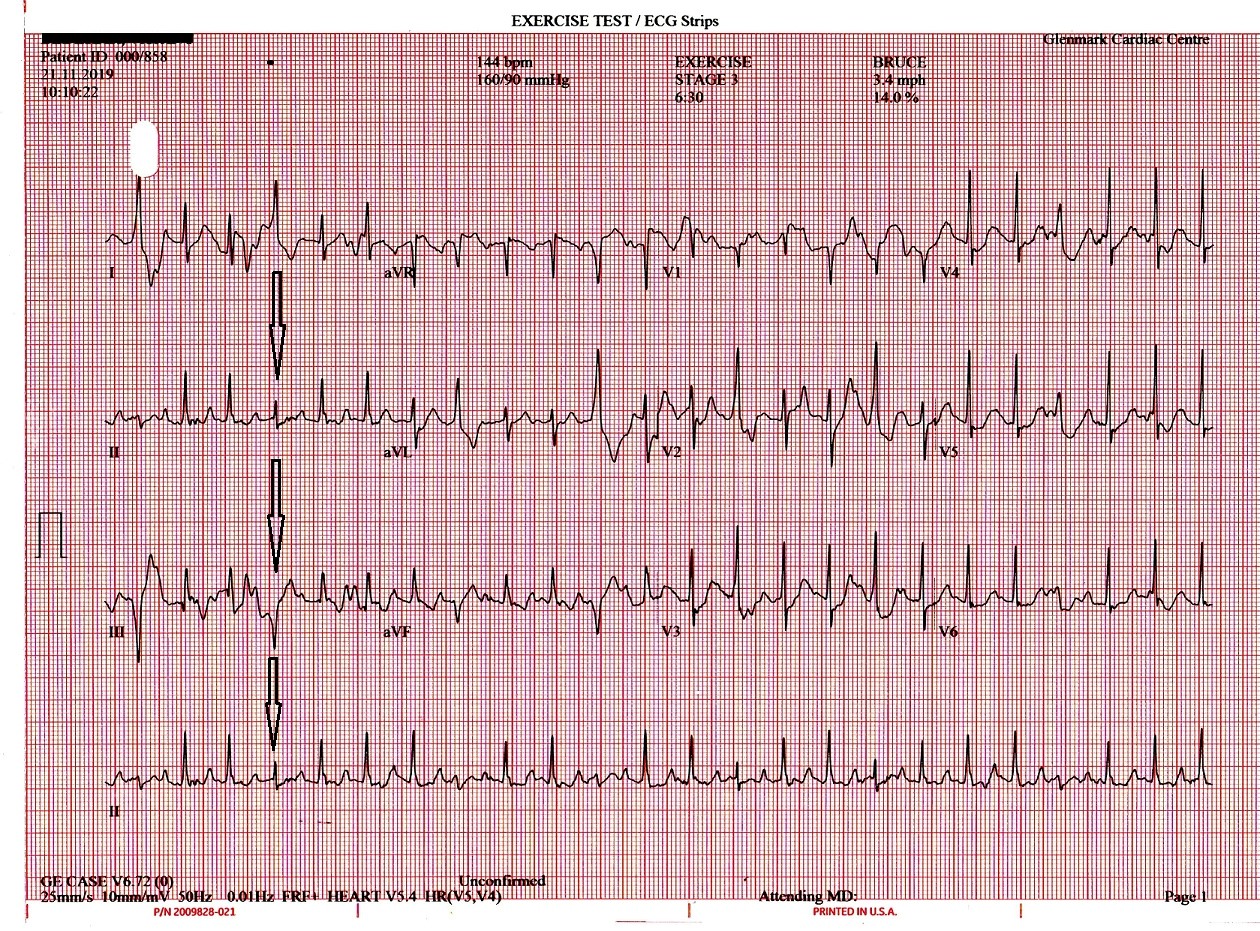 The 12 lead ECG clearly identifies the abnromal QRS complexes as being PVCs as clarified in lead I, avL and from the precordial leads from V2 onwards. Hence, to identify any rhythm abnormality a single or few leads are not sufficient and a simultanously acquired 12 lead ECG is a must.